Seamlessly send the Strava Routes you've created or starred to your Garmin Connect IQ capable devices
Compatible Devices
Installing the ConnectIQ App
Importing Strava Routes to your Garmin Device
FAQ
Compatible Devices
Edge® 520
Edge® 520 Plus
Edge® 820
Edge® Explore 820
Edge® Explore 1000
Edge® 1000
Edge® 1030
fēnix® 5
fēnix® 5 Plus
fēnix® 5S
fēnix® 5S Plus
fēnix® 5X
fēnix® 5X Plus
Forerunner® 645 Music
Forerunner® 735
Forerunner® 935
Installing the ConnectIQ App
 Download the Strava Routes Garmin ConnectIQ app from the ConnectIQ Store
Importing Strava Routes to your Garmin Device
The next time you sync your Garmin Connect and Strava accounts, all starred and self-created Strava Routes will be listed on your Garmin device and can be downloaded for navigation.
You can review the Routes that will be listed on your Garmin device on the My Routes page on the web or under the Routes section of your profile on the iOS or Android app
The 'Strava Routes' app will appear in the ConnectIQ app folder. Your downloaded routes will appear in the Courses folder.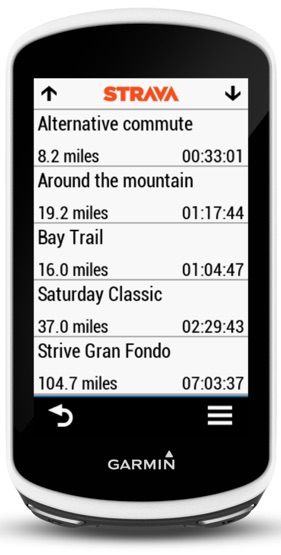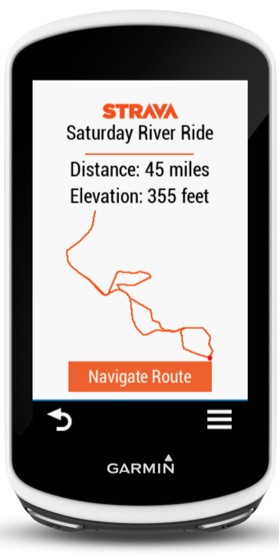 FAQ
Do I have to update my Firmware?
Yes, you will need to update your device's firmware and ConnectIQ firmware through the Garmin Connect mobile app or Garmin Express.
How do I remove a Route?
You must delete the Route from your Garmin device in order to remove it. Unstarring the Route on Strava will not remove it.
What if I don't have a ConnectIQ capable device?
You can export your Route and upload it to your Garmin device by following these instructions.