The Strava app offers several options to help you manage your privacy. Additional privacy settings can be found on the Strava website.
Enhanced Privacy
If Enhanced Privacy is Toggled ON
Your name will be anonymized (first name, last initial) to all logged out athletes
Athletes have to request approval to follow you
Hides activities on profile page from non-followers
Hides follower/following list from non-followers
Hides KOMs/QOMs/CRs tab from non-followers
Photos are not displayed to non-followers on activity or profile pages
Hides clubs on profile from non-followers
Hides activities from non-followers in public or invite-only club feeds
Hides gear and time of activity from non-followers
Prevents athletes who do not follow you from exporting GPX files or creating routes from your activities
If Enhanced Privacy is Toggled OFF
Anyone can view your full name
Logged-in Strava athletes can follow you
Anyone can see your photos
Logged-in Strava athletes can see and download your activities on your Strava Profile
Keep in mind that, unless marked private, your activities are still visible in public locations like the Flyby, group activity features, and segment, public club, and challenge leaderboards. In invite-only clubs, your activities linked on the leaderboards will only be visible to other club members. Additionally, your profile can still be found using our athlete search but can only see certain information on your profile page.
When Enhanced Privacy is enabled, this is what a Non-Follower vs Follow sees: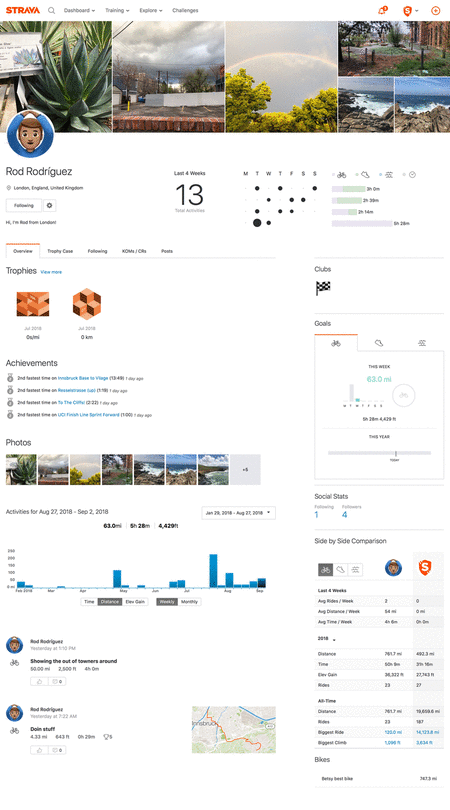 Private by Default
Your new activities will not be visible to other athletes or eligible for leaderboards. This setting does not alter past activities, and you can make individual activities public at any time.
Group Activity Enhanced Privacy
Only your followers and athletes you follow can see that you were part of a group activity. 
If Group Activity Enhanced Privacy is Toggled ON
Athletes you've been grouped with will be hidden from non-followers on your activity pages.
You will be hidden from non-followers on other athlete's grouped activities.
You will still be able to see other grouped athletes, including non-followers. If you'd like to remove them, you can do so using the remove athlete button.
Hide from Leaderboards
With the Hide from Leaderboards setting turned on, your new activities will not appear on public segment and challenge leaderboards. This setting does not alter past activities, but you select this setting on individual activities at any time. Much like a private activity, the segment efforts from your activity will still show up on the My Results leaderboard, but not on the All-Time or other public leaderboards.
Hide from Flybys
Flyby is a Strava Labs tool that lets you playback your activity, as well as those near you, on a map and timeline. If you do not want other athletes to see your activities that appear in Flybys, you can choose to opt-out of this feature entirely.
Strava Metro & Heatmap
Metro & Heatmap use anonymized, public data to help advocacy groups and planners improve bike and pedestrian infrastructure while helping others find the best places to be active. Private activities and privacy zones will never be included in this data.
If you make changes to any of the following after a Heatmap has been published, these updates will not be reflected on the map until the next basemap update.
Private Activities
You can make individual activities private by editing the activity and toggling 'Private Activity' ON. These activities won't be shown to other people, and are not eligible for leaderboards and other public recognition.
Block Athletes
You can block a Strava athlete from the profile of the athlete that you'd like to block.
On the Strava website, click the "gear" icon and select "Block Athlete".

On the mobile app, tap the ellipse in the upper right-hand corner and select "Block." 
Blocking an athlete does the following:
Removes him/her from your list of followers.
Removes yourself from his/her followers and their Activity Feed.
Prevents him/her from following you again, seeing certain Profile details, or accessing your activity.
Someone you've blocked will be able to see your activity entry in public areas like segment leaderboards, club feeds, and segment explore however the blocked athlete will not be able to access your activity or profile page if they click on your entry.
Other Options on Strava.com
Hide Training Log
The Training Log collects all your training in one place and is visualized to show your progress and highlight important stats. You can choose to make your training log public or entirely private from your Strava settings page OR from the Training Log page. If you have enhanced privacy on, an athlete must be following you in order to view your public training log.
Privacy Zones
The portion of your activity that starts or stops within your privacy will be hidden from other Strava athletes who view your activity. 
If you stop in a privacy zone during the middle of an activity, this portion will not be hidden.
If a friend starts their activity from within your privacy zone, the portion that began in your zone will not be hidden on their activity.
You will not appear on any segment leaderboard that starts/stops within your Privacy Zone and you cannot hold or earn any KOMs/CRs on those segments. Removing a Privacy Zone will reinstate your segment matches and any associated KOMs/CRs.
Your Privacy Zone will be respected when you share to Facebook.