At this time, there is no official sync service between Nike and Strava, however, there are a number of 3rd party solutions built by developers using the Strava API. 
Please read the comments from the community below as many of the existing sync apps have been disabled due to changes with the Nike+ API.  
Some sync services to consider: 
RunGap for iOS - workout data manager app (VIP in-app purchase needed)
Sync Smashrun with Nike+, Then use tapiriik to sync Smashrun with Strava (http://www.nikeplusexodus.com/) If you have problems with tapiriik, you can export activities from Smashrun by tapping the download icon highlighted below. You can then upload the activities to Strava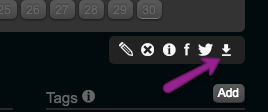 July 27th, 2017 message from the developer of http://nike.vinz.xyz/
Hey guys,
Unfortunately, the tool is blocked as of now because Nike disabled my entry point. After careful investigation, I am unable to get the site back up without their help. Thus, I have been discussing the issue with them, and should manage to get access to their new partner program. The release date of this one is unknown at the moment, though. Sorry about that, I have tried other ways but this one is the only that still looks viable at the moment. We'll have to sit tight and wait for them to grant me access to their soon-to-be-released developer portal. Crossing fingers that happens sooner than later.
Cheers, 
Vincent