Estimated Best Efforts tracks your fastest times for benchmark distances on your running activities. Your times are tracked automatically with GPS data. They are not related to your splits and are subject to normal discrepancies in GPS accuracy. Best Efforts use elapsed time, not moving time, similar to a race where the timer would keep running even if you stop.
Viewing Best Efforts
Strava subscribers can view and edit Best Efforts on the Strava mobile app. More information can be found here.
On the Strava website, Best Efforts for all benchmark distances be found on the activity page on which you achieved them. You can review your best efforts for 1k, 1 mile, 5k, 10k, half marathon, and marathon distances on your profile page. When viewing another athlete's profile on the Strava website, you will see your best efforts compared to theirs (highlighted below.)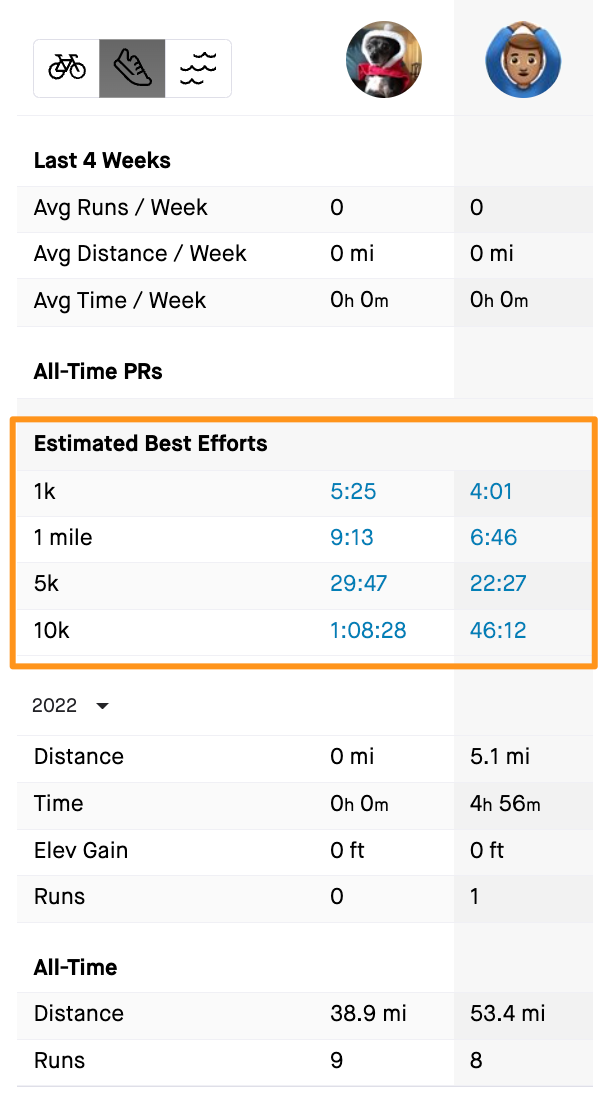 How Can I Remove or Edit an Effort?
Yes, Best Edits can be edited or removed from the Strava mobile app. Access the Best Efforts module from the Progress tab. Select the "Edit Time" or "Remove Effort" box under the result in question. More information can be found here.
Missing Best Efforts
Why are my Best Efforts missing from my activity page?
Strava requires good-quality GPS data to calculate an estimated Best Effort. If there are missing points, errant points, or other false accelerations - that part of the activity will not be eligible for a Best Effort. You can create an All-Time PR to get credit for your effort.
We will not generate PR achievements on the activity page if it's your first attempt at something. In other words, if this is the first time you have run that best-effort distance, you will not see a PR, because you did not improve on a previous time. However, we would still compile that effort on your profile page.
It's also possible you came up just short of the Best Effort distance. We suggest running through the milestone you are hoping to achieve.
Why are my Best Efforts missing from my profile on the website?
Select the Refresh Stats button underneath your All-Time totals (highlighted below.) If that doesn't help, proceed with submitting a support ticket and we will refresh your Best Efforts for you. Please be aware that this option is only available on the Strava website.