Creating a Privacy Zone
On the website, go to your Settings page by hovering over your profile picture in the top right and selecting "Settings".
Click on the Privacy tab on the left side of the page.
Enter a location in the text field provided under "Hide your house/office on your activity maps", select the size of the privacy radius, and click "Create Privacy Zone."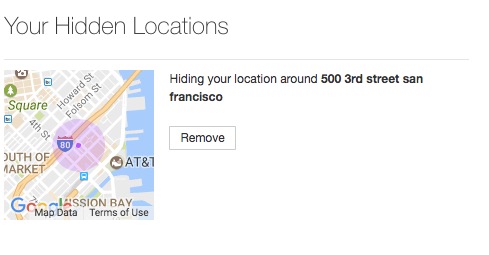 How it Works
The portion of your activity that starts or stops within your privacy zone will be hidden from other Strava athletes who view your activity. You will be able to see data inside your privacy zone, but other athletes will not.
If you stop in a privacy zone during the middle of an activity, this portion will not be hidden.
Your privacy zone will be automatically applied to all past and future activities.
GPS location-based lat/long coordinates can be used in place of a street address for cases where there is no street address.
Only one privacy zone can be applied to the start or end point for each activity. So if you have multiple, overlapping privacy zones, only one will be applied to each start or end point.
If a friend starts their activity from within your privacy zone, the portion that began in your zone will not be hidden on their activity.
You will not appear on any segment leaderboard that starts/stops within your Privacy Zone and you cannot hold or earn any KOMs/CRs on those segments. Removing a Privacy Zone will reinstate your segment matches and any associated KOMs/CRs.
Your Privacy Zone will be respected when you share on Facebook.
FAQ
I created a privacy zone but my activity isn't hidden.
Remember, you will still be able to see data inside your own privacy zone. To confirm what's hidden from others, you can display the privacy zone as a red circle on the map. From the map options menu, select the checkbox next to "Show Privacy Zone."