A privacy zone will hide the portion of your activity that starts or ends in your zone from all athletes
How to Create a Privacy Zone
You must use Strava.com to create and manage a privacy zone.
Go to your Settings page by hovering over your name in the top right and selecting "Settings".
Click on the Privacy tab on the left side of the page.
Enter a location in the provided text field, select the size of the privacy radius, and click "Create Privacy Zone."

How it Works
The portion of your activity that starts or stops within your privacy will be hidden from other Strava athletes who view your activity. 
If you stop in a privacy zone during the middle of an activity, this portion will not be hidden.
If a friend starts their activity from within your privacy zone, the portion that began in your zone will not be hidden on their activity.
You will not appear on any segment leaderboard that starts/stops within your Privacy Zone and you cannot hold or earn any KOMs/CRs on those segments. Removing a Privacy Zone will reinstate your segment matches and any associated KOMs/CRs.
Your Privacy Zone will be respected when you share to Facebook. 
View your Existing Privacy Zone
Review your in the privacy section of your Settings page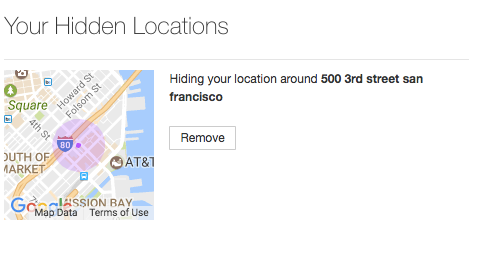 On your activity page, you can elect to show your privacy zone on the map. To display the red circle (as shown to the left) indicating your privacy zone, go to your activity page and click on "Terrain Map" in the map section.  Select the checkbox next to "Show Privacy Zone."
What you see vs what they see
Map options