Recording your Swim Activities
There are many multi-sport or swim devices that are compatible with Strava. Here are some of the most popular devices used by our athletes to record swim activities:
Garmin Forerunner 920XT, 910XT and 310XT
Garmin Fenix 2 and Fenix 3
TomTom Multi-Sport
Polar V800
Suunto Ambit3
While all these devices are compatible with Strava, some have an easier process for uploading to Strava than others. For a complete list of all our compatible devices please refer to this article. 
Most swim or multi-sport watches offer options to record both indoor and outdoor swims. If your device offers "Drill Mode" it is best to disable this option. 
Indoor Swims
Indoor swims on Strava will not display a map, instead, a laps view will be displayed.
Most devices have a option to input pool length before you start an activity and you will have to hit the lap button to record your distance and time. Distance is calculated by adding up the laps distance and moving time is calculated by adding up the timer time of any lap more than zero yards.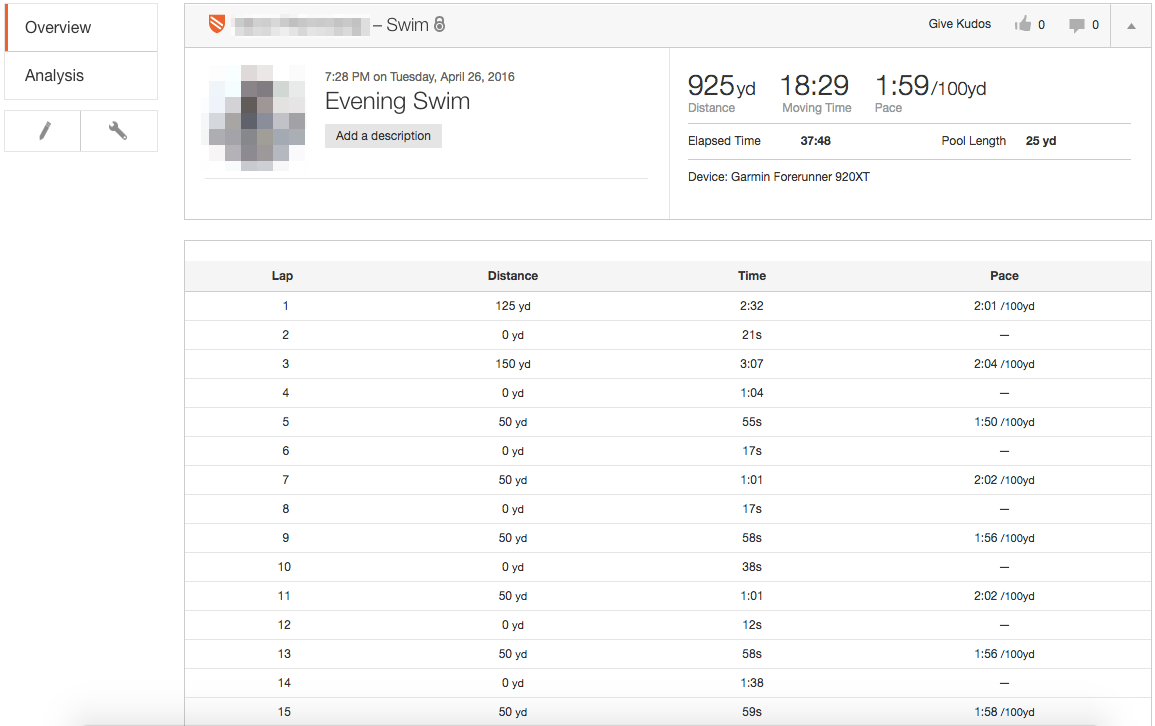 Please note: You will have to input the pool length before starting your activity. There is no way to update the pool length once the activity is on Strava. 
Outdoor Swims
Outdoor swims are recorded with GPS data so a map will be displayed on Strava. A GPS-based moving time is used instead of lap time. The pace chart for outdoor swims is built with GPS points although we apply a bit of smoothing. 
Please note: If you are recording a swim activity in an outdoor lap pool, it is best to turn off GPS and use laps. In order to get the most accurate data you should treat outdoor lap pools as indoor swims.
FAQs
Will my heart rate be displayed on a swim activity?
No, we do not show heart rate data for swim activities