Automatically Sync with Garmin Connect
From the Garmin Connect mobile app:

If your Garmin device is Bluetooth-enabled, you can download the Garmin Connect Mobile app, create a Garmin Connect account, and link to your Strava account by going to Settings > Connected Apps > Strava.
Accept the permission prompt to connect your Garmin Connect and Strava accounts and log into your Strava account.

Ensure the permission to upload activities from Garmin Connect to Strava is enabled before authorizing the connection.

Disabling this permission will prevent past and future activity sync.

Once activities are wirelessly uploaded to Garmin Connect via Bluetooth, they will appear on Strava a few moments later.
After your first upload, Garmin will also sync your past 90 days of activity to Strava.

Using Garmin Express:

To upload using your computer, download and install 

Garmin Express

 and follow the instructions to add your device.
On the Strava website, visit strava.com/upload/device and find the Garmin option to authorize a link to Strava.
Once you've established this connection, any new activities uploaded to Garmin Connect™ will automatically sync to Strava. After your first upload, Garmin will also sync your past 90 days of activity to Strava.
How to stop automatic syncing with Garmin Connect:
Disable the "Activities" permission under Strava in Garmin Connect.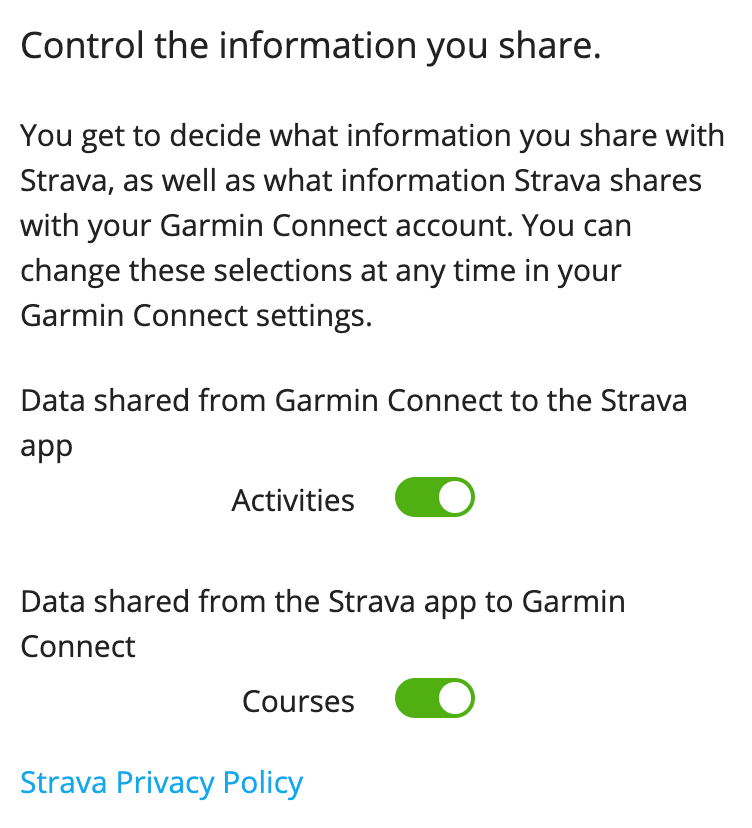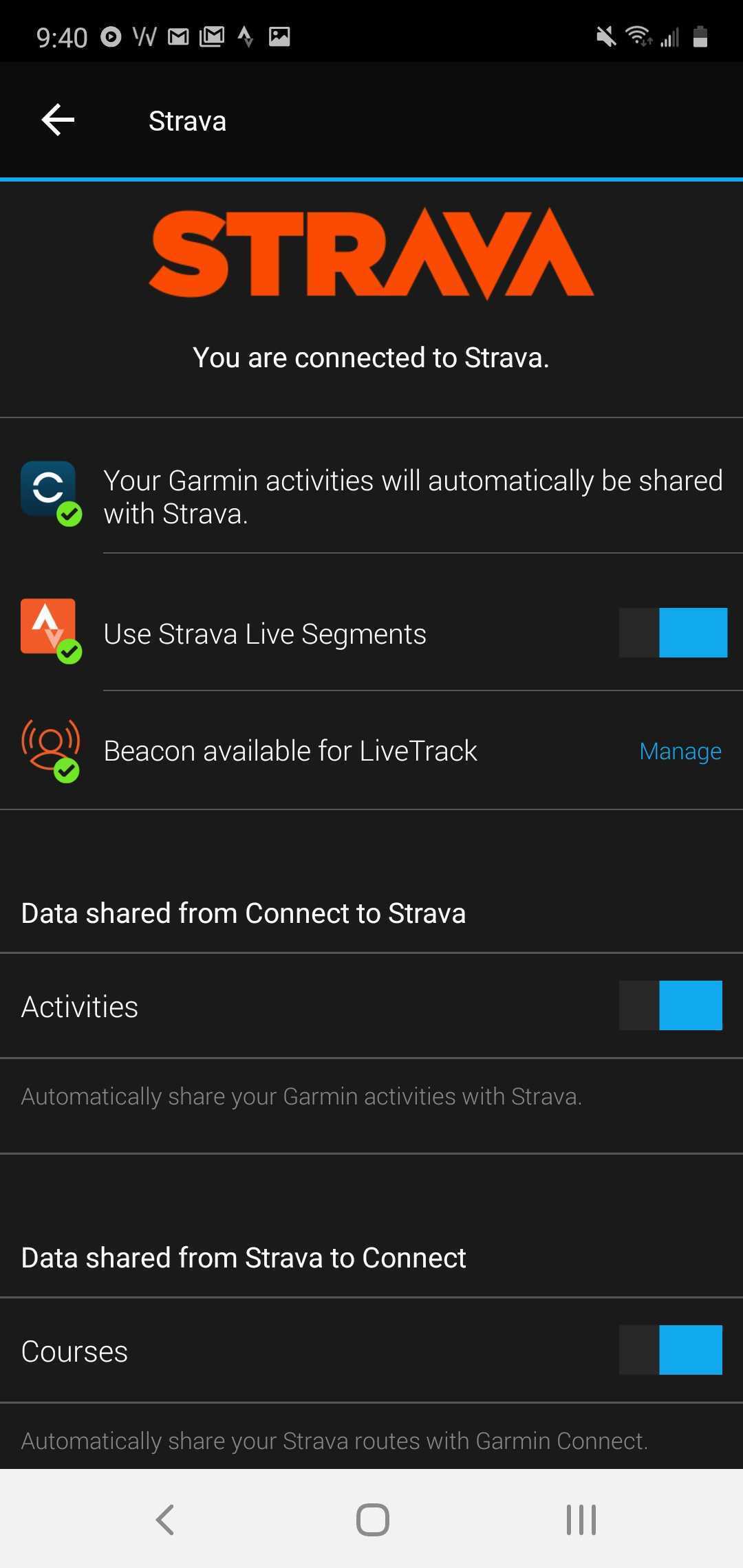 How to manually upload an activity file to Strava:
Upload activities directly to Strava from your hard-drive mountable Garmin devices. Browse to the Activities folder on your connected device and select the files you'd like to add. Note that this option is not available for devices that use the ANT+ agent. Alternatively, you can export files from Garmin Connect. Visit strava.com/upload/select and click Choose File. 
What do I do if Garmin data is not Syncing to Strava?
We experience occasional delays when syncing from Garmin's side, especially during peak upload times. You can check whether Garmin Sync is working by checking out their status page and referring to the "Strava" status (6th from the bottom). The Strava status page also displays uploads from Garmin Connect.
If you've recently connected your Garmin account to Strava:
Check that the "Activities" permission is enabled in your Account Settings in Garmin Connect.

Wait until your first new activity is successfully synced. This can be performed with a short test activity that is later deleted. After your first successful sync, Garmin will also sync your past 90 days of activity to Strava.
If one activity is missing:
You can

 

export the original file from Garmin Connect

 

and upload it to Strava on our upload page.

You can either download the original file directly from your Garmin device (under the 

Activities

 folder) or you can download the original file from Garmin Connect using the website. The best option would be to export the 

Original

. Keep in mind that if this is a large activity it may be exported in a .zip format. You will need to open the .zip file to uncompress the file to produce the .fit file.
If multiple activities are missing:
Confirm that you don't have multiple Strava accounts connected to your Garmin Connect account.

Garmin

 

will not sync to all connected accounts

. Garmin activities will only sync to the most recently created Strava account (the account with the highest athlete ID).

To refresh the connection between Garmin Connect and Strava, disconnect Garmin Sync from your Strava settings, then reconnect. To disconnect, visit Settings in the mobile app or website, and select "disconnect". To reconnect, follow the authorization flow after selecting connect. Remember, Garmin sync is not triggered until the first new activity is uploaded to Garmin after your accounts are reconnected.
Vivofit and Vivosmart Activity Trackers
Be aware that the Vivofit and Vivosmart wristbands do not have built-in GPS sensors for location tracking. If an ANT+ heart rate monitor is connected to your Vivofit or Vivosmart activity, you can sync the data with your Garmin Connect account, and if enabled sync this data with your Strava account. Keep in mind that the resulting activity on Strava will only show HR data, and will not have a map or record distance.