Clubs on Strava
Any cycling, running, or triathlon club can be a Strava club - from friendly groups and casual clubs to racing teams. You can search for local clubs to join or create a club for your team, shop or riding/running crew. Club pages show recent rides and runs and allow comments between club members to aid in scheduling group rides. You'll also have access to a club widget to show your clubs rides or runs on your blog or website.
Find a Club
To find a club, log into strava.com and hover over the Explore tab at the top of your screen, then select Clubs from the drop down menu.  From there, you can search for Clubs by name, location, sport, and type of club.  You can also click 'View all clubs' to see a full list of Strava Clubs so you'll know what you're searching through. Alternatively, you can use our Global Search from any page on Strava.com— learn more about it
here!

Create a Club
To create a club, click the "Create a Club" button at the top right of the same club search page. Enter the information in the fields provided. If you make a public club, anyone will be able to join. Only club Owners and Administrators can invite athletes to invite-only clubs or approve requests from athletes wanting to become members. Keep in mind that invite-only Clubs are not invisible to non-members; they only require admin permission to join. However, recent activity, discussions, and private group events will be hidden from non-members. Please note that if you create a club, you will become the club Owner - with the distinction between Owner and Administrator being that Club Owners can not leave the club (until they pass on their Owner title to another member). *Please note Clubs can only be created via the Strava website, not the mobile apps.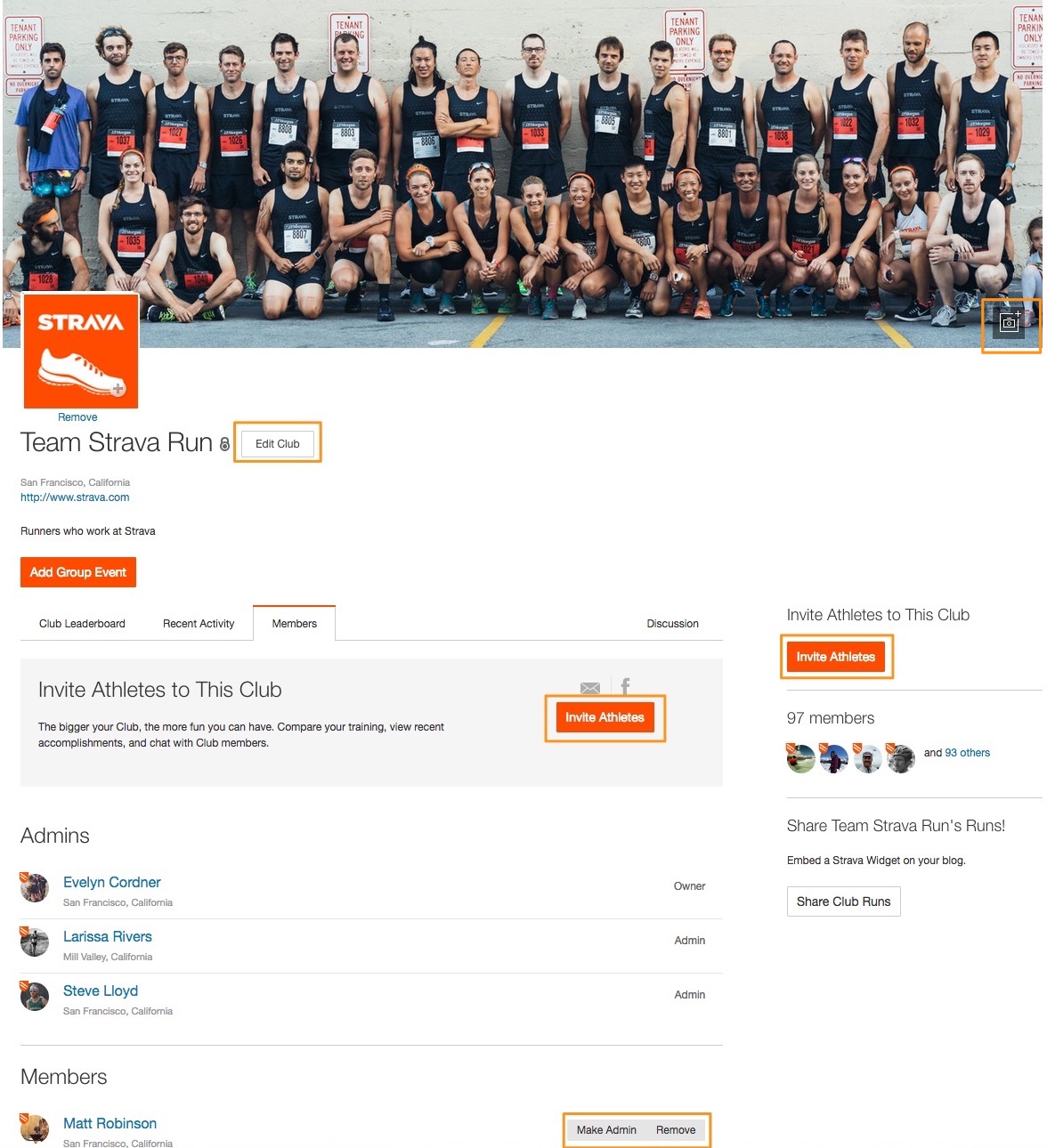 Above is the view of a club page from the Administrator's perspective.  Since it is an invite-only club, a regular member - see below - won't have the ability to invite new members.  The Administrator can remove users or make them Administrators as well, and the Owner can 'promote' users to Owner, thus removing him or herself as the club's Owner. Administrators can also change the club cover photo by clicking on the camera icon on the lower, left-hand side of the current cover photo. All club members can add posts to the club's Discussion section.
**Update** The Announcements feature is no longer available for clubs on Strava.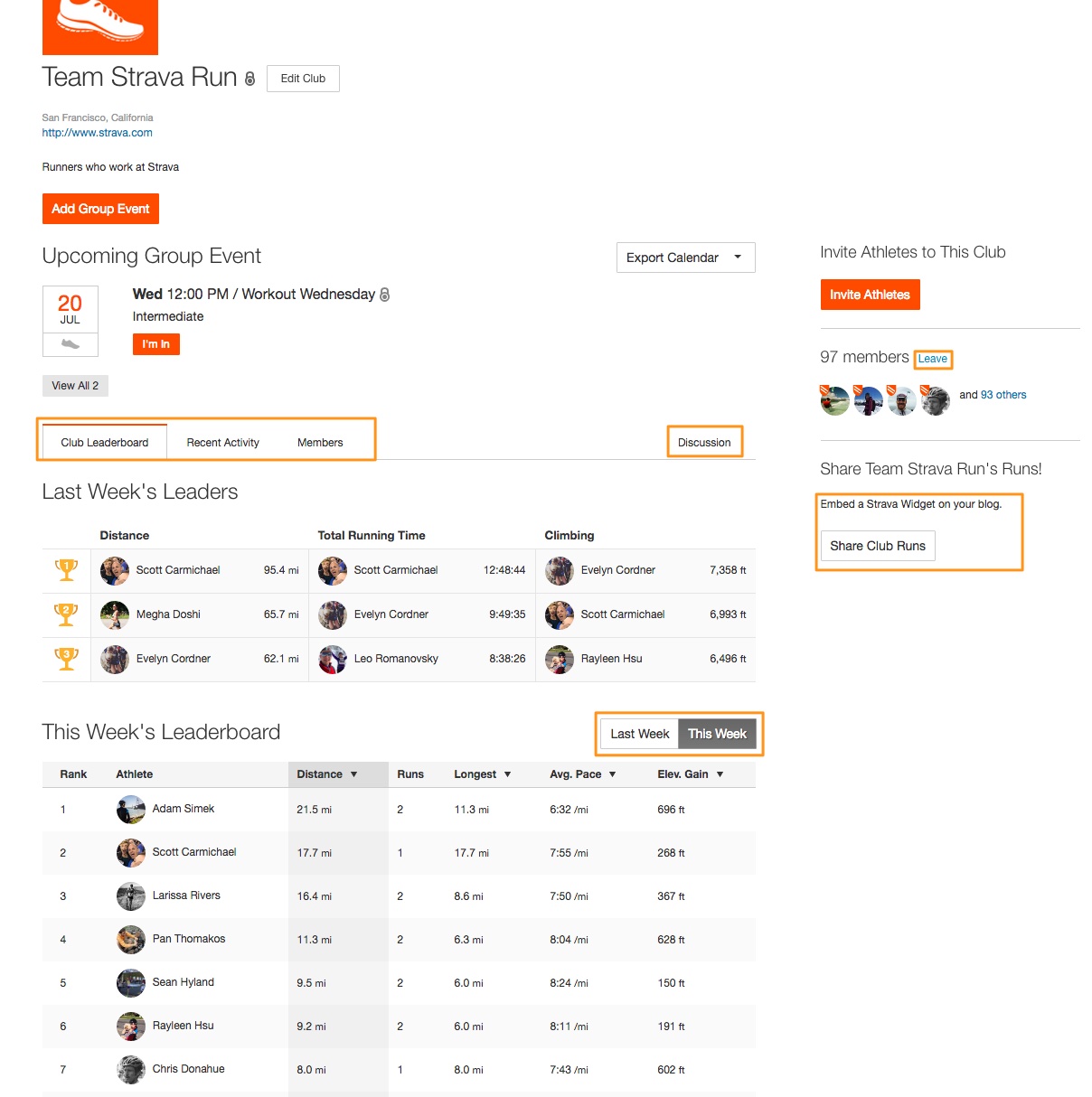 The Club Leaderboard shows a ranked list of club members with sortable stats for the current and previous weeks - customized with a specific view for Running, Cycling, and Triathlon Clubs; as well as the Last Week's Leaders "podium" section, rewarding the Club's top performers in 3 sport-specific categories. The Recent Activity section shows an Activity Feed for club members' activities - keep in mind that this will only show the activities corresponding to the club's sport. The Members section will show you a full list of the club's members, their 'status' as an Administrator or Owner, and if applicable, allow you to invite new members to join. Finally, the Discussion section provides a message board for you to plan group activities, discuss routes, etc.
Editing your Club
Club Owners and Administrators have the ability to edit their club information by clicking the Edit Club button at the top left of the Club page (shown in the uppermost screenshot).  Options include the ability to change the Club's name, location, sport, description, and more.  This is also how a club Owner can delete a club; by clicking the Delete Club button at the bottom of the page.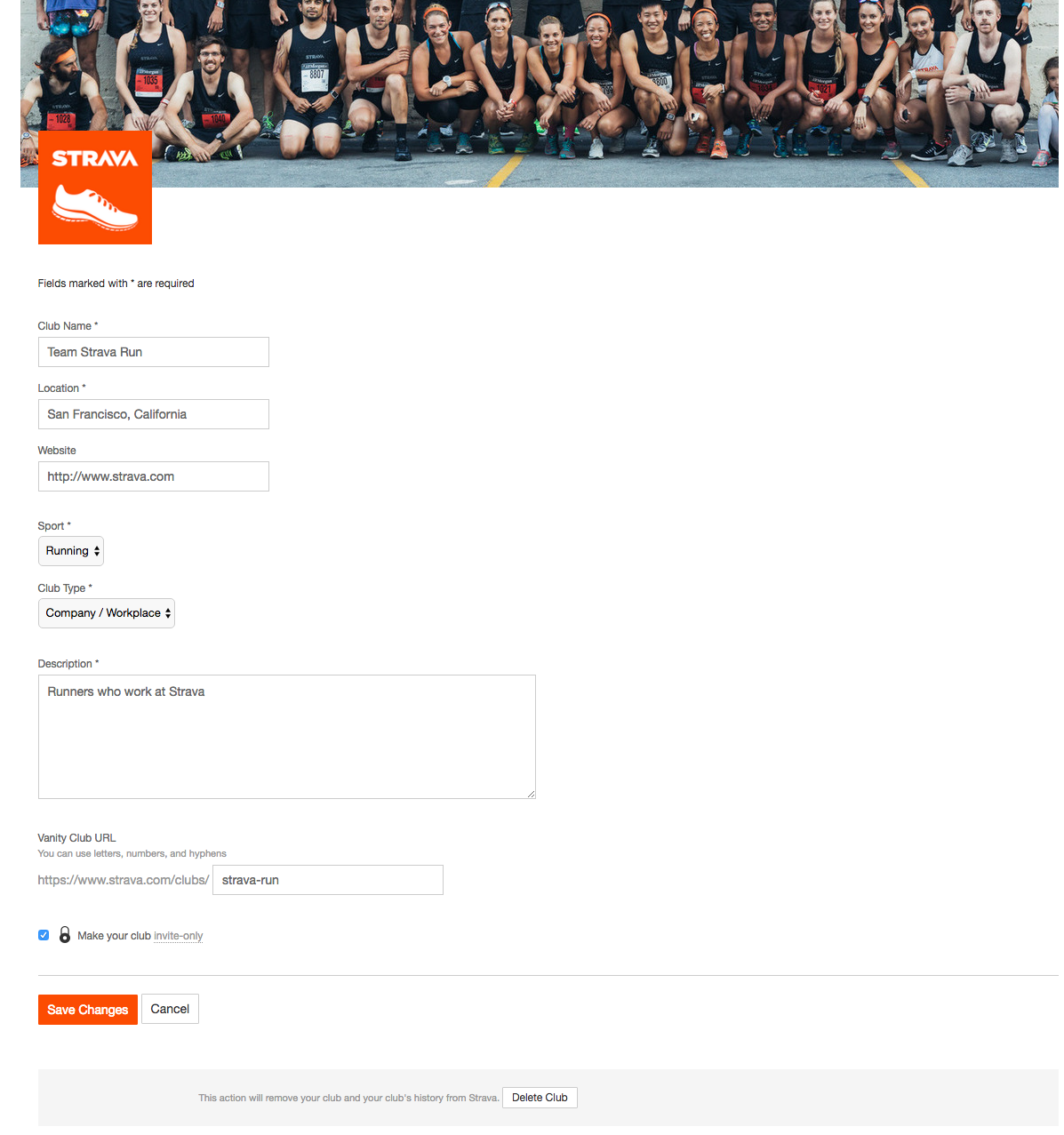 Club Email Settings
There are two scenarios where club members will receive a notification related to their clubs on Strava. 
When someone adds a message to a club discussion board - Club members with this setting selected will receive an email and Strava notification when another club member adds a message to a club discussion thread they have posted in.
When a club member adds a discussion post - Club members will receive an Email and Strava notification when a new discussion post is added to the club page.
Note: When a user joins their first club on Strava, these settings are automatically selected. They apply to all clubs a user has joined, and cannot be customized for individual clubs. 
To change these settings, visit your Settings page.