With Route Builder, you can create running or cycling routes that fit your preferences, like routes that use Strava popularity, or a route that minimizes elevation.
Accessing Route Builder and Creating a New Route
To access the Route Builder, hover over your Dashboard tab to open the drop down menu and select "My Routes". On the My Routes page, you'll have access to all the routes you've both created and starred.
To create new Routes, click the 'Create New Route' button near the top of the My Routes page.  From there, you will be taken to the Route Builder tool, where you will be able to select activity type as well as many other parameters, add endpoints and waypoints, and view information and statistics about your route.
Make A Route From An Activity
You can also turn an activity - even if it's not your ride or run - into a route by clicking the Wrench menu from an activity page and selecting Create Route. Keep in mind that you won't be able to create a route from activities that belong to Enhanced Privacy athletes you are not following.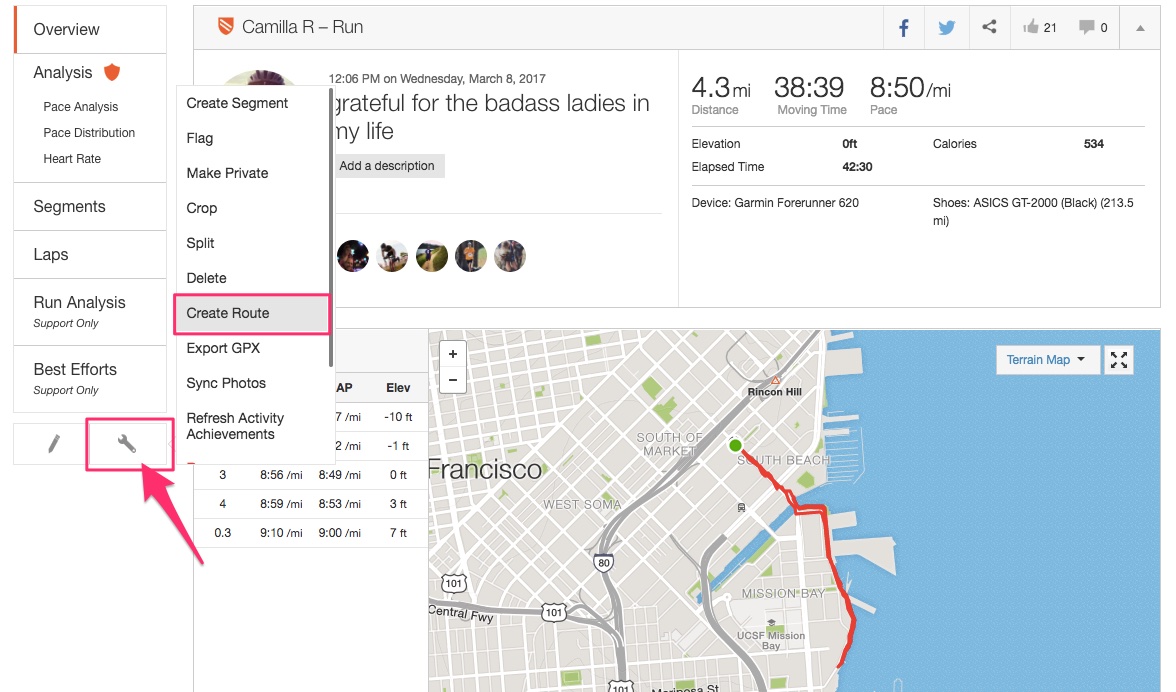 Sharing, Exporting, and Following Routes
Once you've created a route, share it with your friends on Facebook, Twitter, via email, or with your followers on Strava.
You can export a Route to a compatible Garmin device by selecting 'Export' on the Route page. Choose to download the TCX or GPX file depending on what your device will accept. GPX files are best if you have base maps installed because it will display both a styled map and text-based directions. TCX files are best when you don't have base maps installed. Save the downloaded file to your computer and plug in your GPS device so it's recognized as a USB drive. Open the "Garmin" folder on that drive and find the folder labeled, "NewFiles." Move your downloaded TCX or GPX file there. Once the file has transferred, you can disconnect your Garmin and look for the Route in "Courses" on the device.
If you don't have a GPS device, we've also provided handy printer-friendly cue sheets that you can print out and share. They fold up neatly to be stowed away in a jersey pocket or jacket.
Lastly, you can follow the Route on your iOS or Android device.
Starring Routes
If you see a route you want to use later the easiest thing to do is to simply "Star" it. This will save the route on your routes page and make it accessible from your mobile app for following during your activity. 
Private Routes
You can make a route private before you Save it, just click Save then check the box next to "private" on the Save window. You can make it public at a later time by editing the route, clicking Save again and unchecking the private checkbox.
For more detailed information about the many functions and features of the Route Builder, please click the Information (i) icon to the left of the Route Builder page.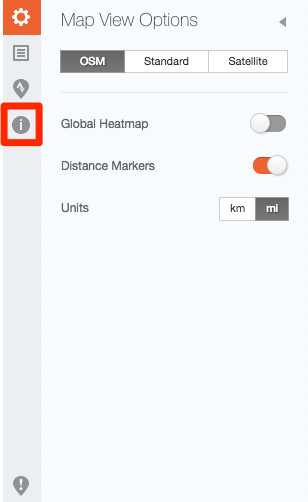 Editing and Deleting Routes
To edit or delete a route, click the wrench icon in the top-right corner of the intended Route and select either Edit Route or Delete Route from the menu that appears.  From this menu, you can also duplicate a route if you'd like to make changes while saving a copy of the original.
Improving Route Builder
There's so much more we'd like to do with Routes on Strava. Over time, we'll be improving our maps in order to make routing better and better. Sometimes you'll find that the Route Builder's maps are missing trail or road data and you won't be able to create the route you want. This will continue to improve, but we want to hear from you when you're having trouble. We've built an error reporting tool into the Route Builder so you can share information with us when things don't go as expected. To report a map or route problem: