Flagging a segment as hazardous is a way for a Strava member to alert the community of potential concerns. A segment may be flagged as hazardous for reasons such as road construction or blind corners. 
The Hazard Flag is separate from the Activity Flag.
After a segment has been flagged, Strava will automatically apply certain restrictions:
Goals cannot be set on flagged segments.

Achievements (PR, KOM, etc.) are not awarded for flagged segments.

Leaderboard and rankings are removed for flagged segments, unless you agree to the hazardous segment waiver. Users will have to agree to the waiver for each hazardous segment they want to view. 
Creating a Hazardous Segment Flag
To flag a segment as hazardous, navigate to the segment page. On the right-hand side of the segment map click "Actions" and then click "Flag"  (shown below). You will first be prompted to choose a flagging reason from the list. This flow allows for better tracking around the types of hazards reported by Strava users, and helps prevent the segment flag feature from being used incorrectly.
For example, if the reason chosen for the segment flag is regarding a false time on the leaderboard, incorrect segment elevation or GPS data, or an inappropriate name, the flag will not be created. Instead a preferred course of action will be recommended from the flag confirmation screen, like creating a support ticket or using the activity flag.
As a requirement, a user will have to match the segment on a prior activity in order for the Hazard Flag option to be visible. This requirement is in place to ensure the flagger has personally experienced or assessed the hazards that may be present.
Use the Actions drop-down menu to select 'Flag' 
Choose the reason for flagging the segment, fill in the 'Additional Details' section with as much information as possible, and select 'Flag'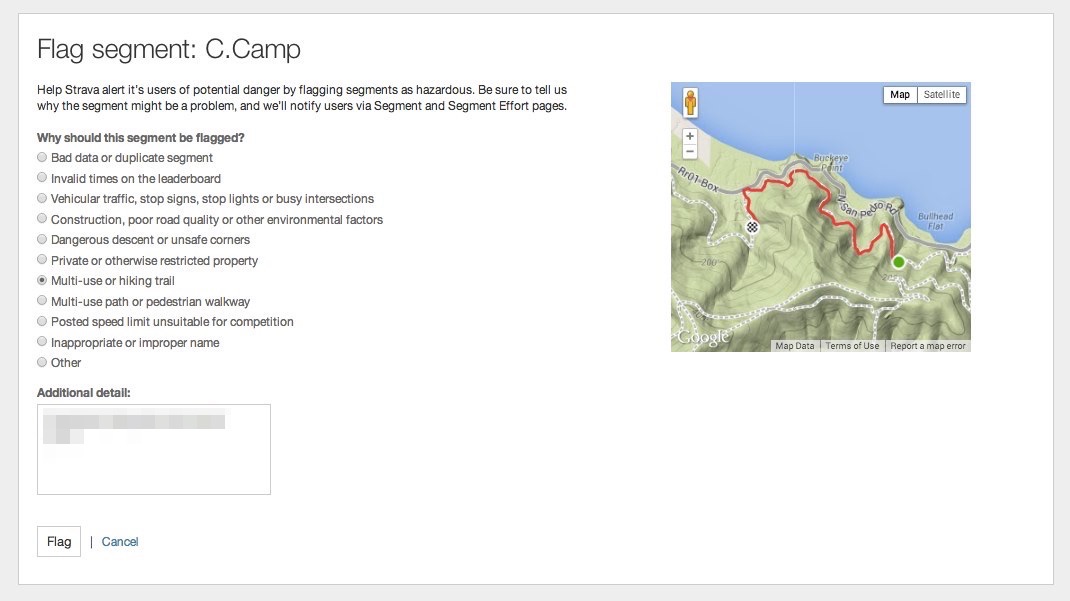 Select confirm and your flag will be created. 
Opting in to view the leaderboard
Accepting the Waiver
Users who wish to participate in and view the Leaderboard for a flagged segment can accept the terms written in a legal waiver from the segment page (shown below).
After a segment has been flagged, a message is displayed on the segment page stating that "To view the leaderboard for this segment, we ask that you agree to our hazardous segment waiver". By clicking 'Proceed' you will be given the option to read the waiver, and 'Accept' or 'Cancel'. If accepted, the segment page will reload and show the Leaderboard with full rankings. If you want to view the leaderboard on more than one hazardous segment, you will have to agree to the waiver for each segment. 
It's important to note that although the Leaderboard for the segment will be displayed, your achievements for the segment will not generate, which also means that any KOMs/QOMs/CRs will not be listed on your profile, and you will not be able to set goals for that segment.
1. Select 'Proceed' from the top of the segment page
2. Accept the terms of our Flagged Segment Waiver