Recording an Activity
Navigate to the record screen by tapping the circle record icon located in the middle of the dashboard (1). Strava will default to recording the activity type corresponding to your preference saved to your Profile (Ride or Run), but you can change this by tapping the shoe or bike icon near the top-left of the screen.
To begin recording, simply tap the large Record icon (2) near the bottom of the screen.  From there, the app will begin recording, and the timer will begin counting up.  
While at the Map display, you can move the map and zoom in/out as you are used to - and if you're recording a run you'll see mile/kilometer markers along your path.  Tap the location icon to focus back on your position, and tap Stats or drag the handle right to return to the main recording screen.   
You can also tap on Splits (if you're recording a run) or Map to see your splits and progress in real time.
To create a manual activity, navigate to the feed and tap the + symbol on the top left. This will take you to a creation screen allowing you to set Duration, Distance, Speed, Title, Activity Type, Time, Description, Gear, and Privacy and Sharing options
Feed Screen

Pre-Record Screen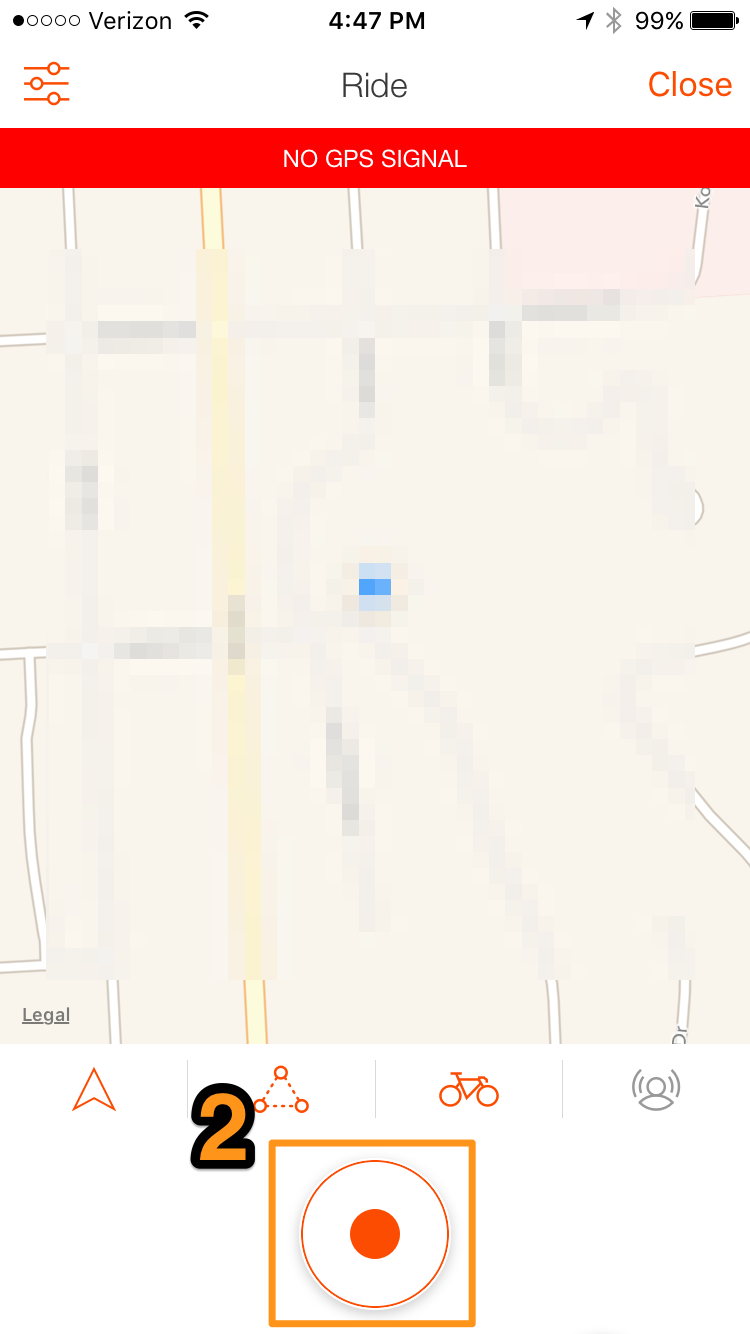 Recording Screen
Paused Screen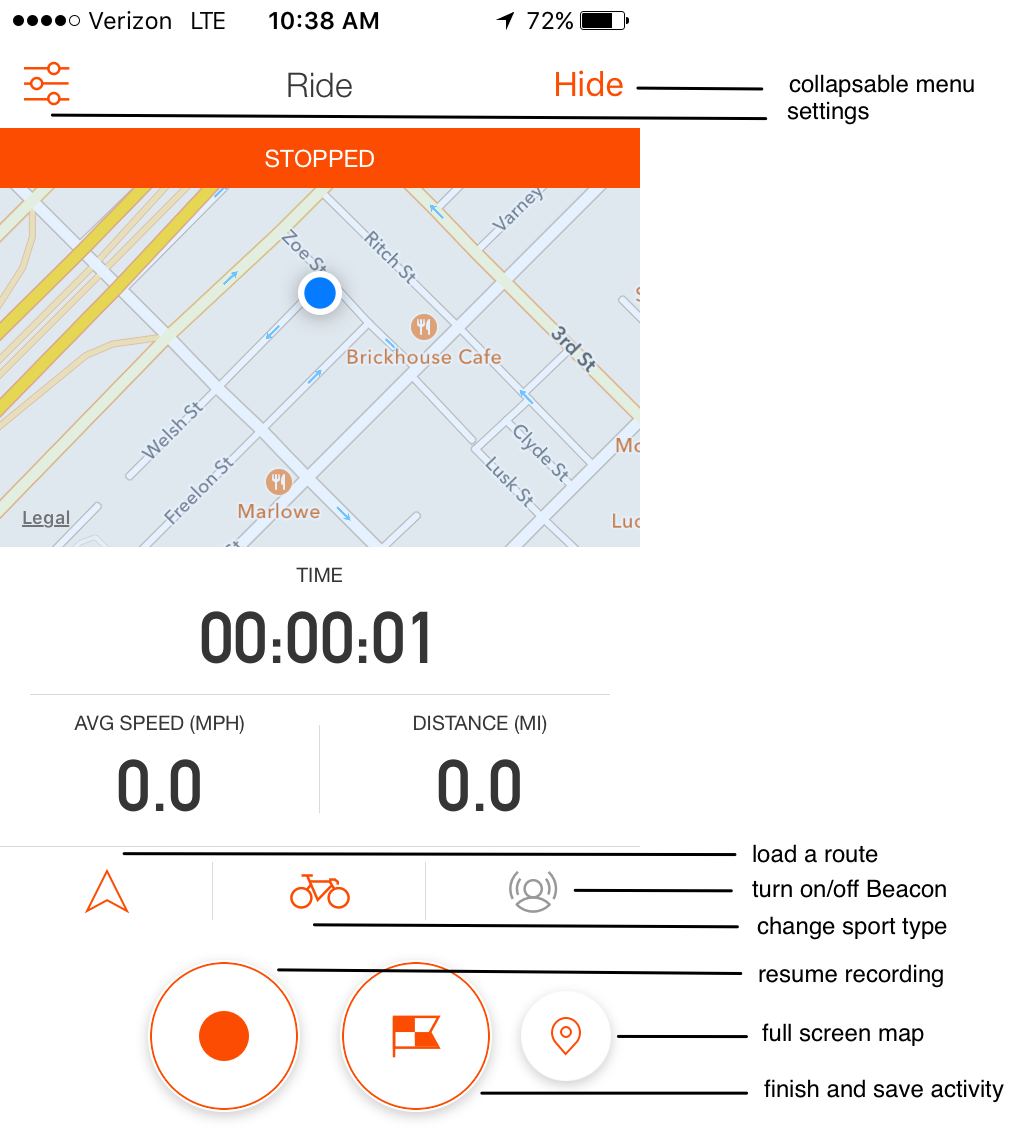 Pause, save, or finish an activity
To pause or finish your recording, simply tap the Stop or Finish buttons, shown above right.  Please note that it is not necessary to pause recording manually while stopped as the Strava servers will automatically calculate moving time after the activity has been uploaded.  Pausing is primarily beneficial for saving battery life if you know you'll be stopped for an extended period.
Once you have pressed the finish button, you'll be taken to the Save Activity screen, shown below right.  From there you can set the activity Title, Activity Type, Description, Gear, and Privacy and Sharing options.  Tap Save Activity to upload to Strava's servers - and be aware that if you tap Discard (and then confirm this choice) - there is no way for Strava to recover the activity.   Your activity will appear on the Feed screen immediately and you'll be able to view the full activity details after it is done syncing.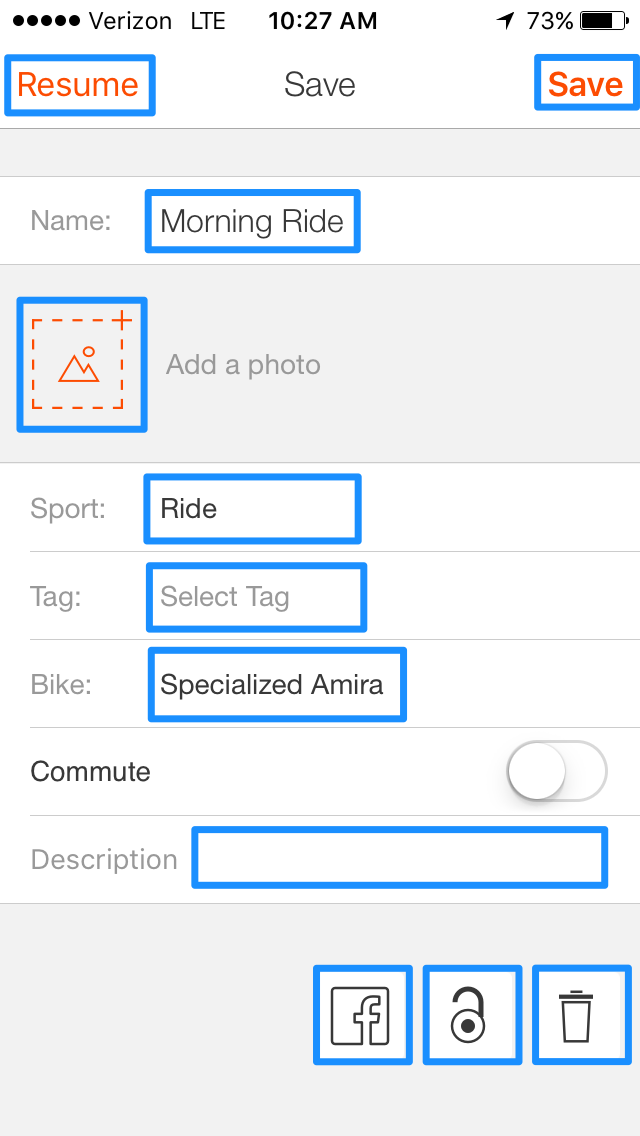 Other recording features
Load a Route
Load a route by tapping on the Record settings icon near the bottom left of the screen. Read more here.
Live Segments
Live Segments brings the experience of competing on a segment to your mobile phone. Read more here.
Live stats (Premium Only)
Speed, cadence, heart rate, and power will show real-time values instead of averages. Runs will still use average pace. 
Connect biometric sensors
Learn more about pairing compatible heart rate, cadence, and power meters to the Strava app. 
Auto-Pause
You can choose to enable auto-pause for hands-free pausing or you can choose to leave auto-pause off and we will calculate your moving time when the activity uploads to our server. Read more here. 
GPS strength indicator 
There are no longer green status bars for GPS signal strength. Instead you'll see a halo around your location indicating accuracy. The smaller the halo the stronger the GPS signal. 
 App Data Usage
While recording there is no data usage unless you're viewing the maps, or have Live Segments or Share My Activity Status turned ON. Otherwise the app just uses GPS while recording. Once you've finished recording the app will need to transfer some data to sync the activity with the Strava servers. That's typically about 1MB for two hours of recording, so it's a pretty small amount. This can vary a bit based on GPS quality and usage of sensors such as heart rate straps, speed/cadence sensors or power meters.
There will also be some very small amount of data transfer to update your Feed. Please note, however that if you can wait for a wifi connection to sync the activity or view the Feed then you can prevent all cellular data usage.